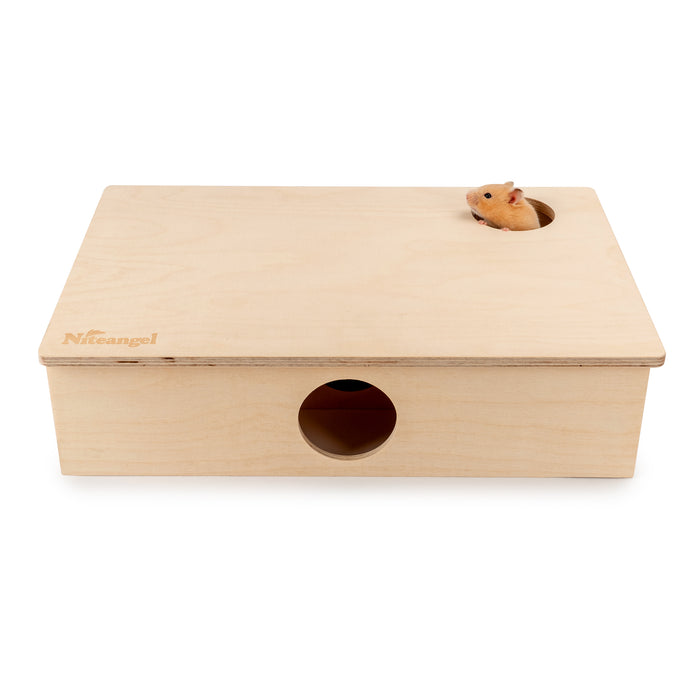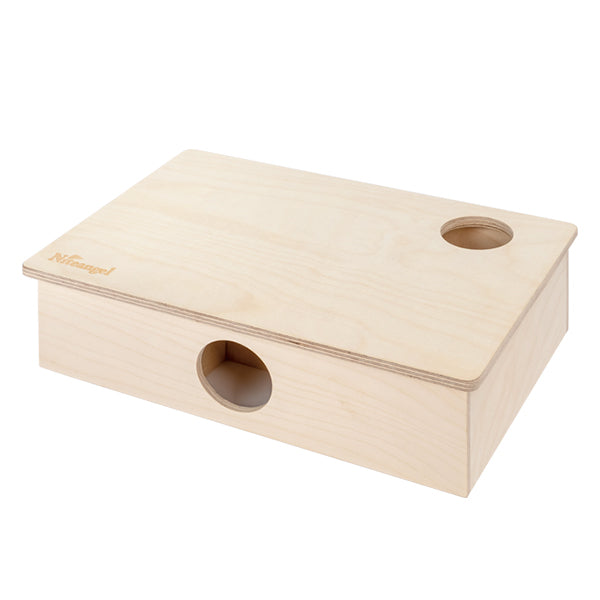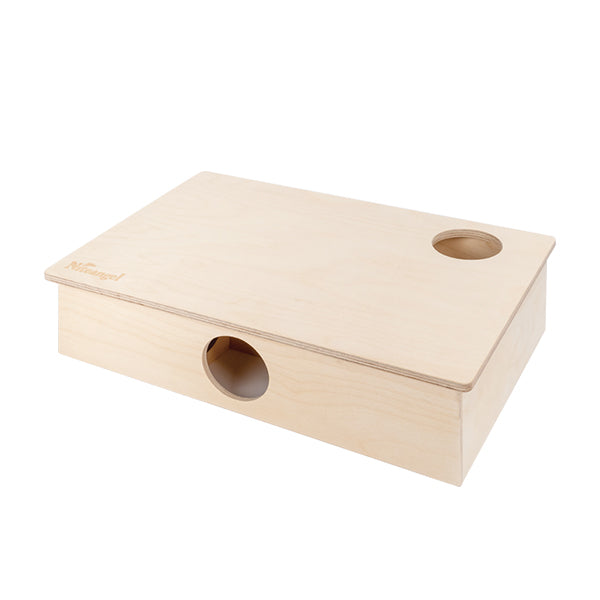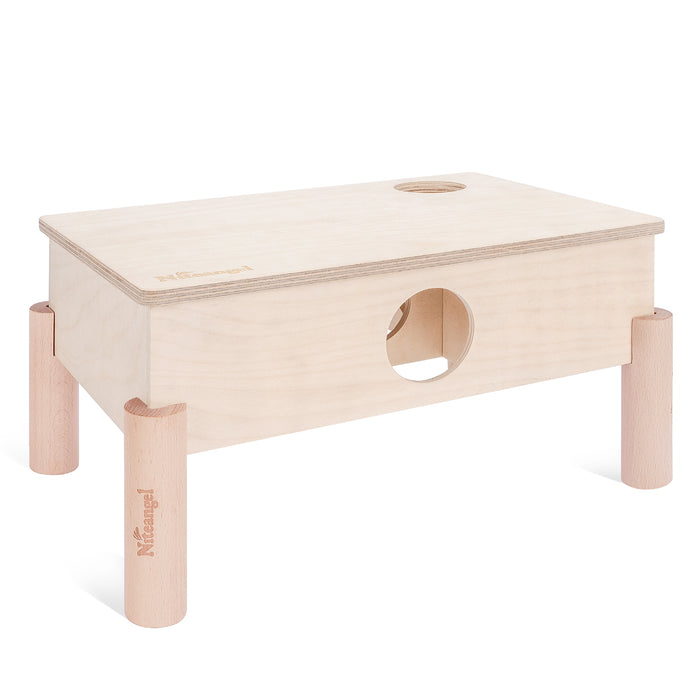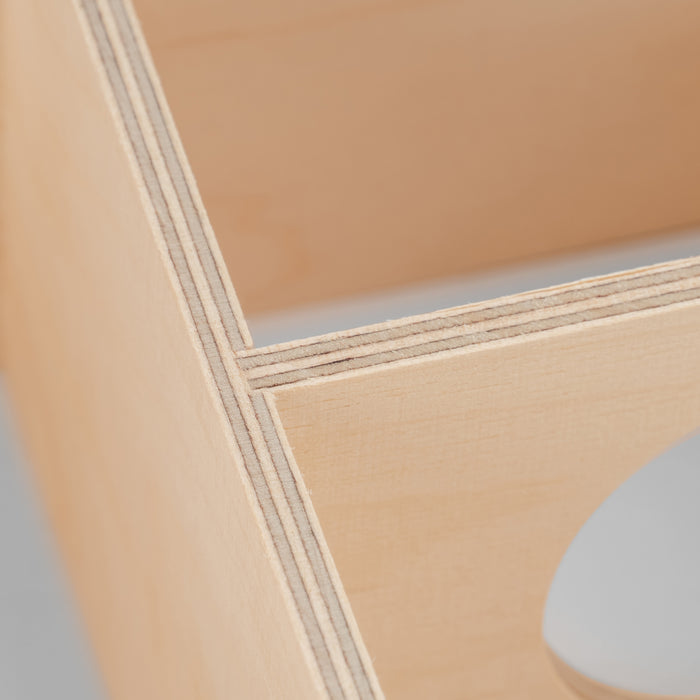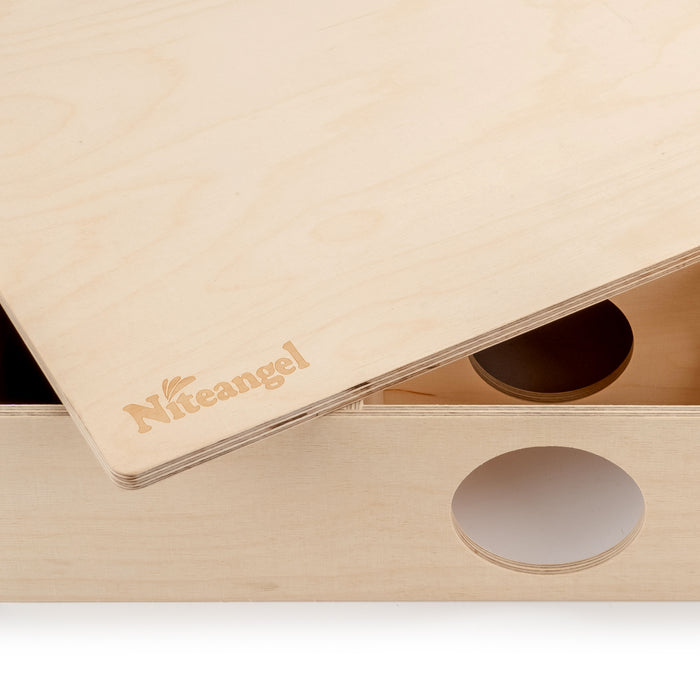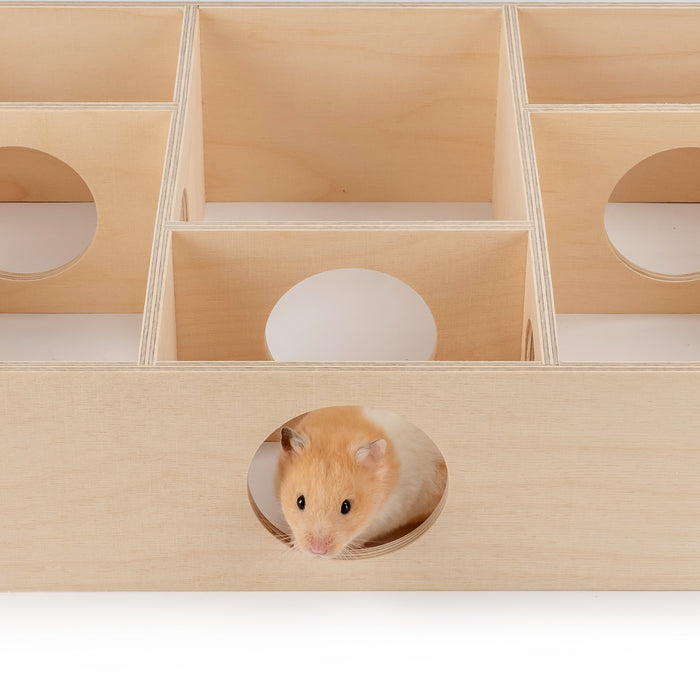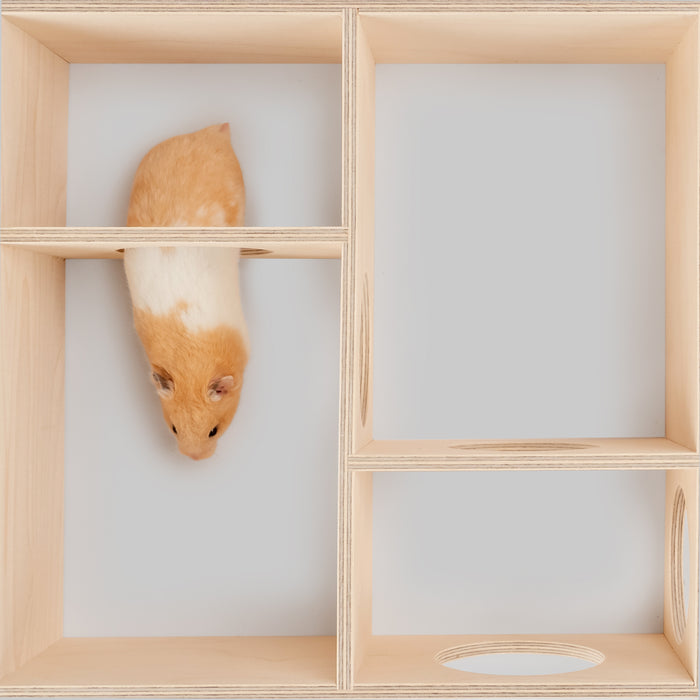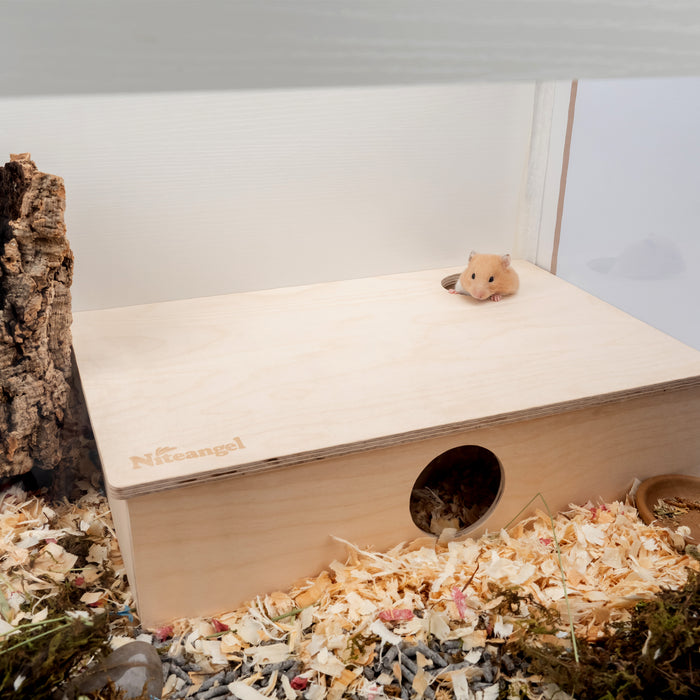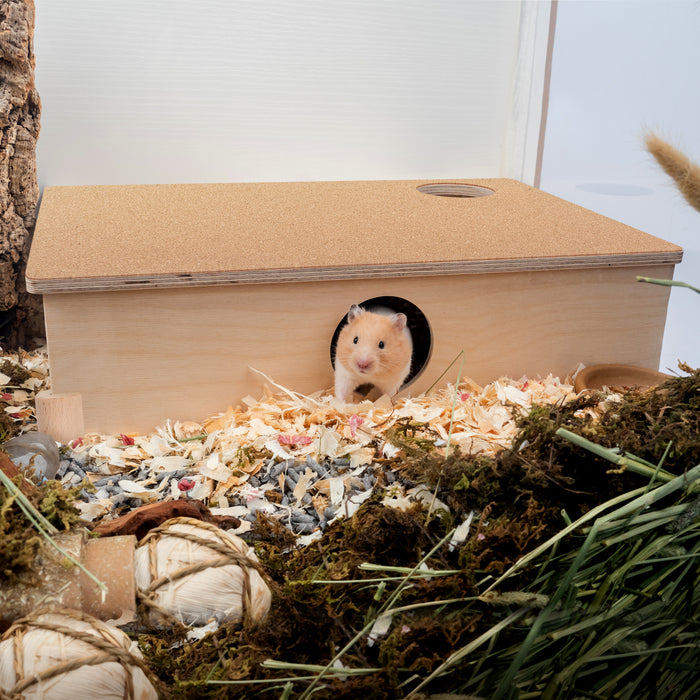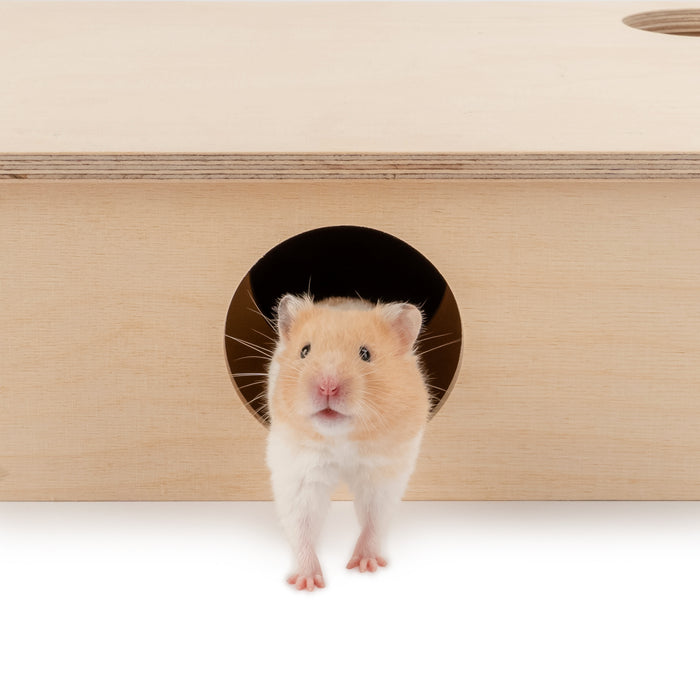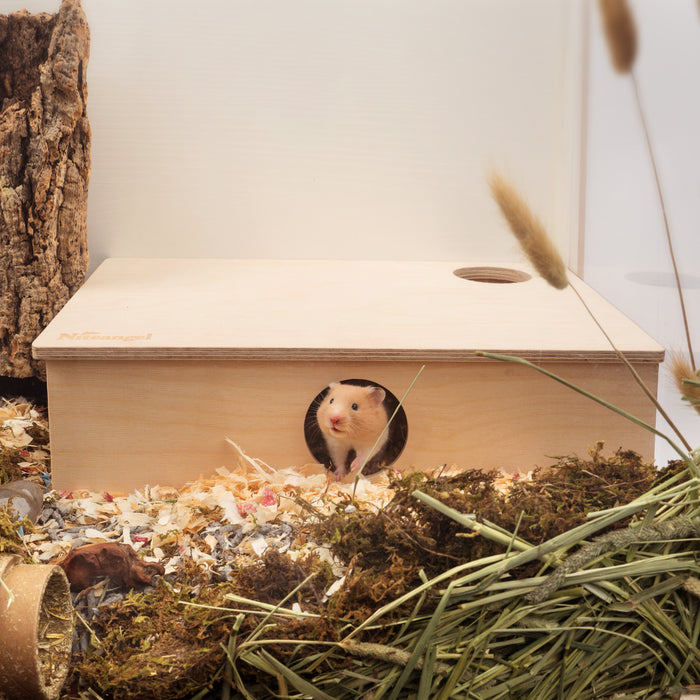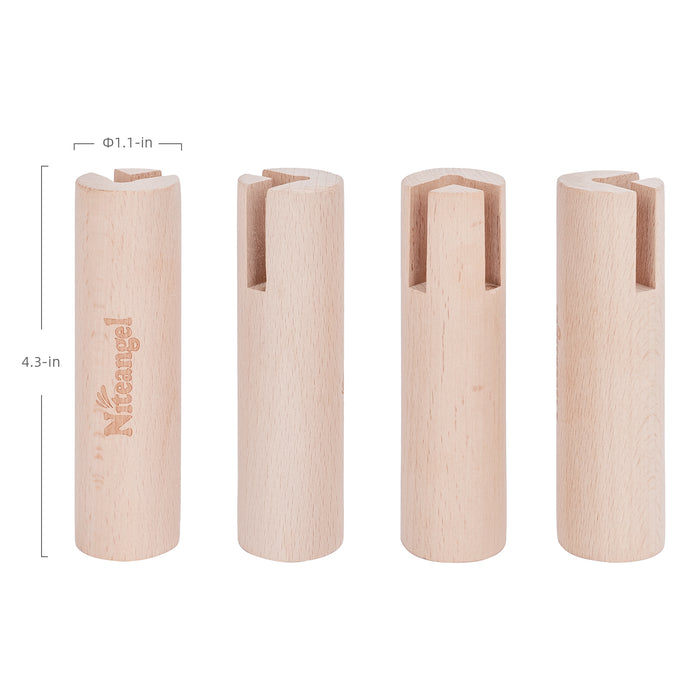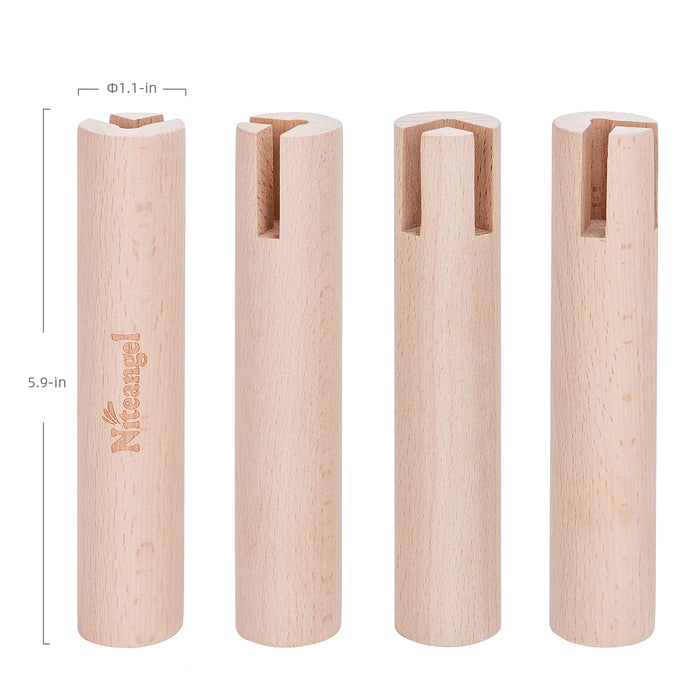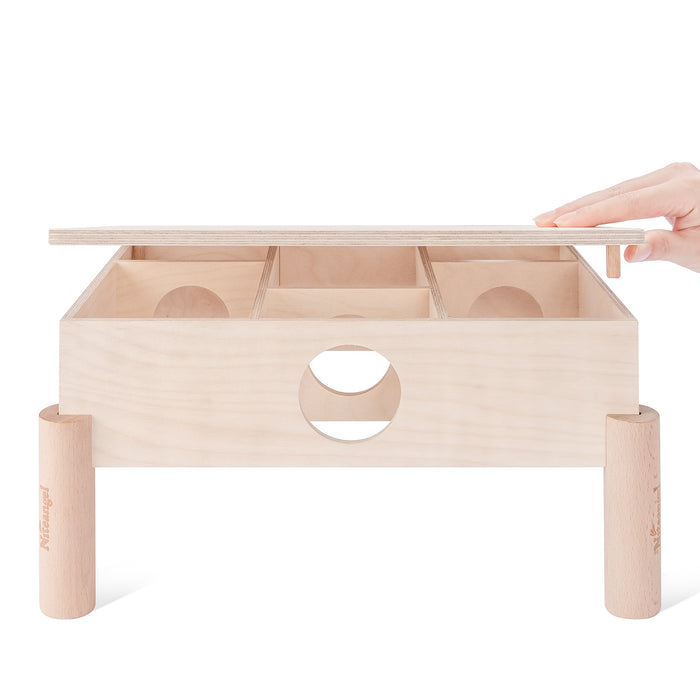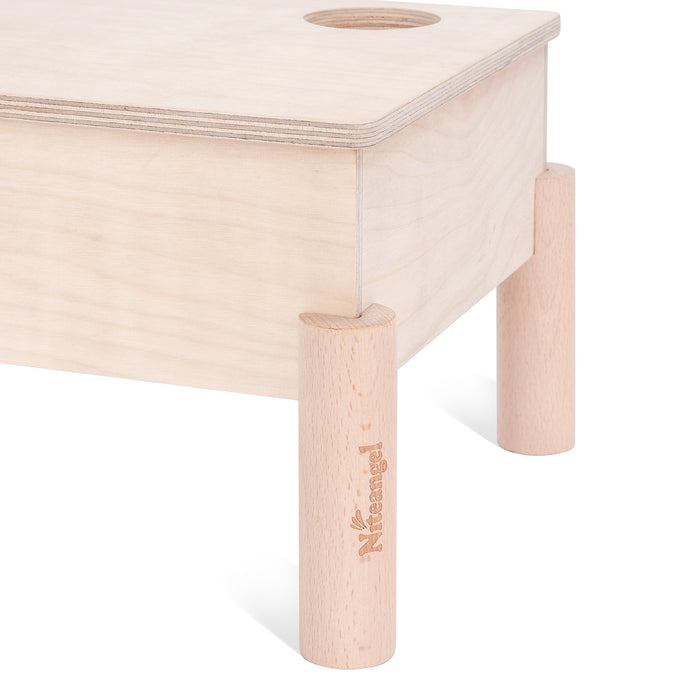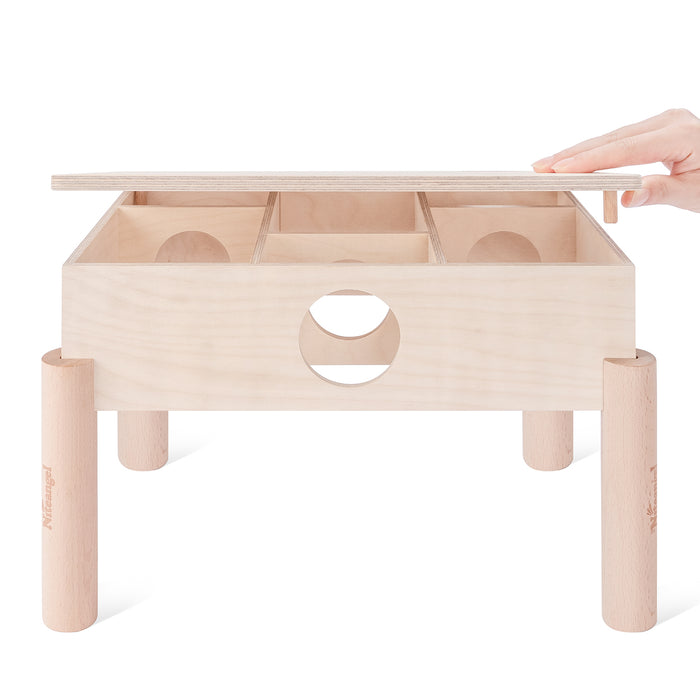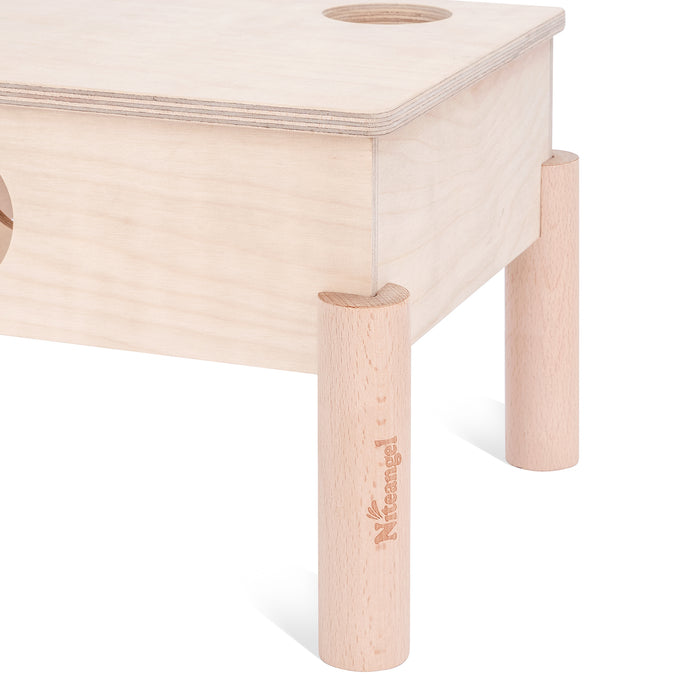 Niteangel Large Wooden Multi-Chamber Hideout for Dwarf and Syrian Hamsters
For hamsters with strong strength such as Syrian hamsters, it is suggested to put some heavy objects (such as ceramic hideouts) on the roof of the chamber that hamsters can't move to prevent the hamsters from getting stuck when the lid is pushed open.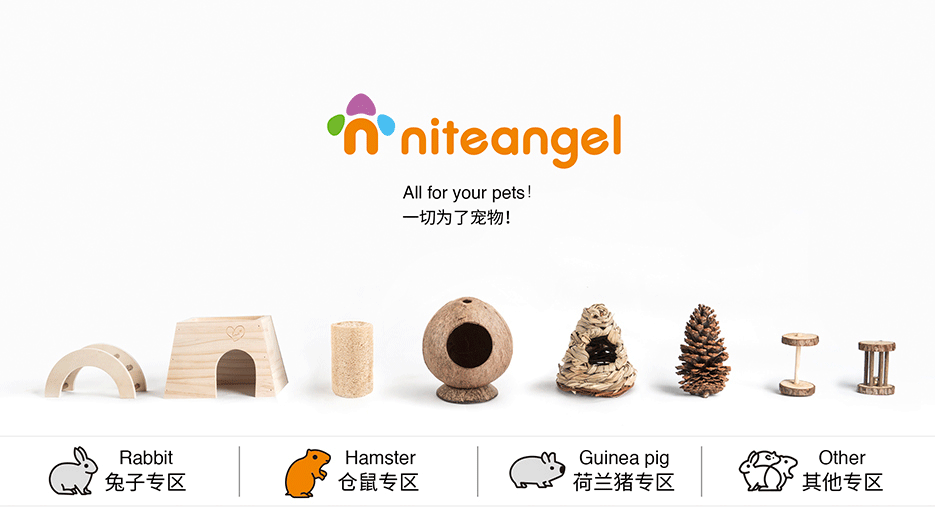 In the wild the hamster usually have multiple chambers and each one has its specific use. The Wooden Multi-Chamber Hideout comes without bottom, which allows the hamster to burrow deep down, therefore mimics how a hamster would live in the wild and gives your hamster a place to feel safe. There are multi-chamber, three-chamber and two-chamber to choose. In order to achieve the balance upon the bedding, you can also pick the support sticks to heighten the hideout. 
Large wooden Hamster Home - Large Version developed, especially for Syrian Hamsters. The doors, which around 2.7 inches(ca. 7 cm) in diameter, it's big enough for a Syrian hamster to slip through comfortably. Measurement: 16.9x11.2x4.3inch(ca. 42.9x28.4x10.9cm).
Wooden Hamster Home - Small Version developed, especially for Dwarf Hamsters. The doors, which around 2.1 inches(ca. 5 cm) in diameter, it's big enough for a tiny hamster to slip through comfortably. Measurement: 12.4x8x3.3inch(ca. 31.5x20.5x8.5cm). Reminder: Before purchase please make sure your cages or tanks have enough space to set it down since it's way bigger than other mazes on Amazon
Multi-Chamber Hamster Maze - Comes with 2 entrances and 6 rooms, all rooms and roof platform easy to access like an underground tunnel & maze system by connected opening, highly mimic hamsters wild burrow to stimulate their instinct to hide & explore
Multi-functional Activity Room - Designed 3 Big rooms & 3 Small rooms, can be used individually by hammy's wishes, like sleeping in, hiding away, storing food, napping, digging bedding or exploring escape route, just like in wild. Stimulating Hamster to keep active & Enriching their pastime in the night. Also, provide a dark surrounding in the day for hamsters to take a premium sleep
Removable Lid - The removable roof of the house lets you easy to find where your furry friends sleep without disturbing your hamster or check the storeroom to see has any perishable foods and remove them as needed
High-Quality & Well-Made Craftsmanship - Made from European Imported Birch Plywood, built by the tongue and groove method without nails, and be sanded each corner to smooth. Safe & enjoyable living to keep their well-being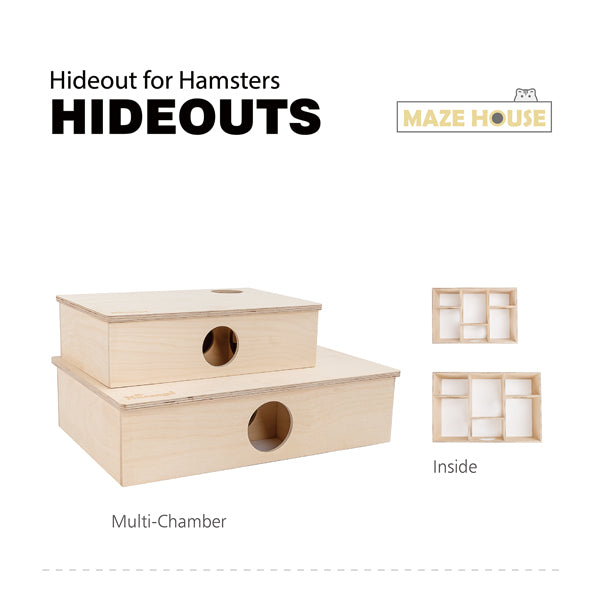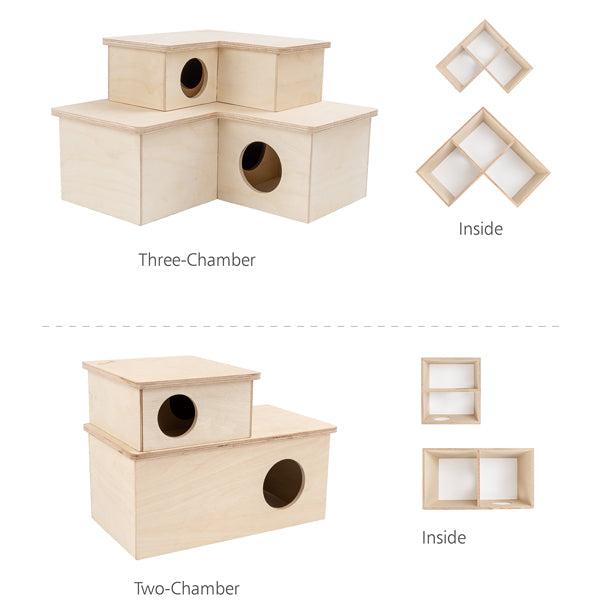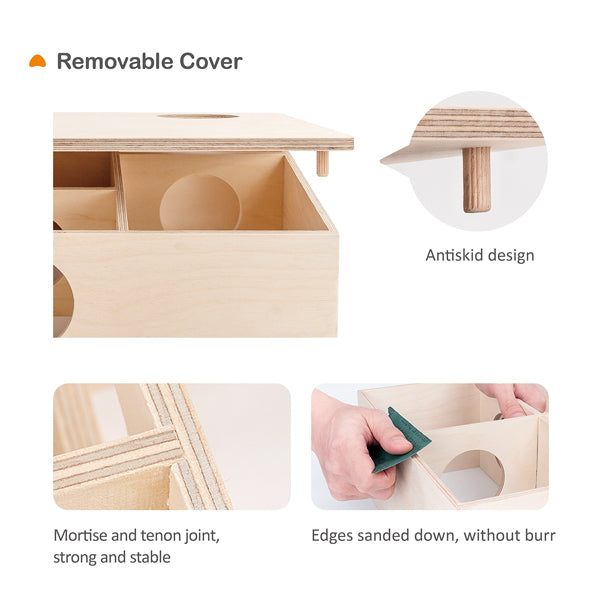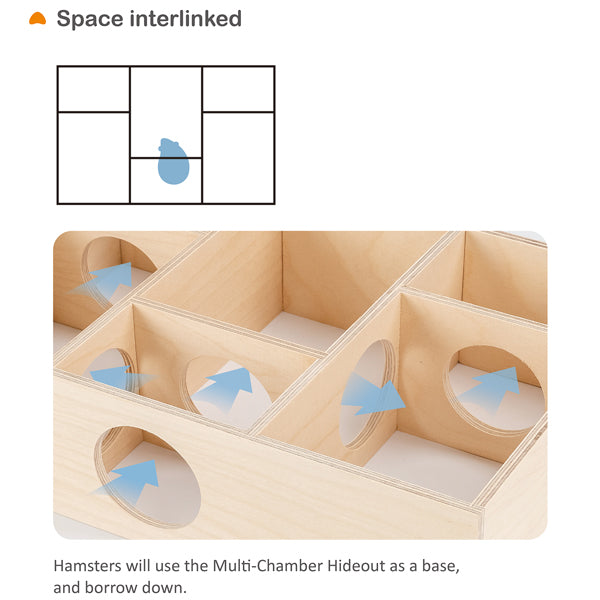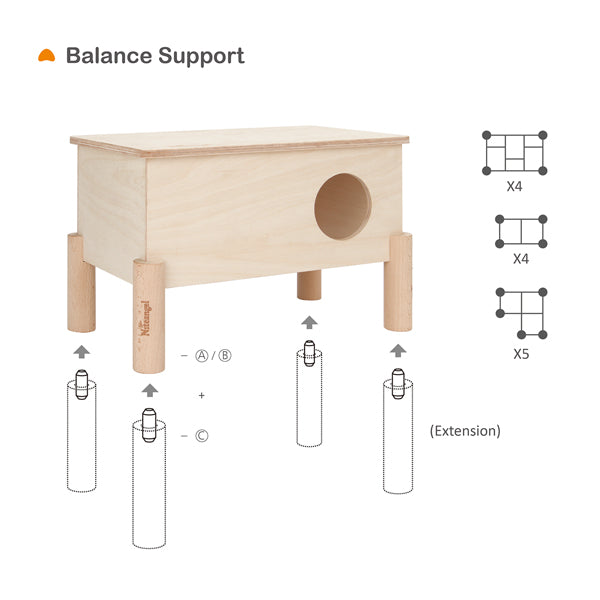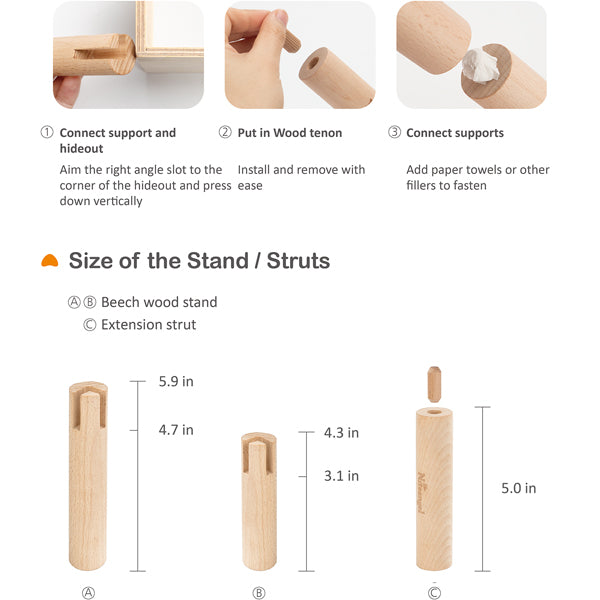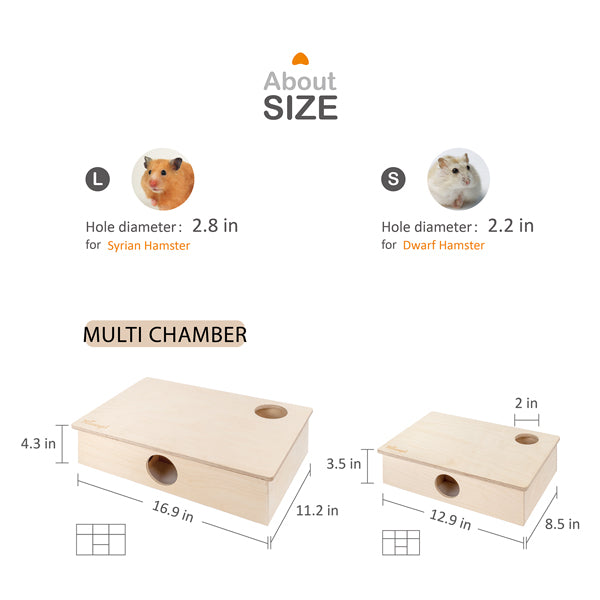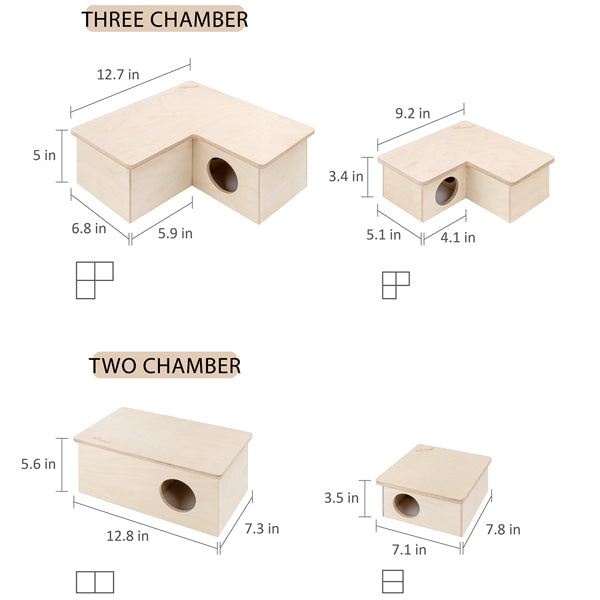 What're the specials of Niteangel Hamster Multi-Chamber House Maze?

1>. Developed suitable entrance for Syrian hamsters and Dwarf hamsters separately
a. Large Version: Door Diameter is around 2.7-inch(7cm) for Syrian Hamsters
b.Small Version: Door Diameter is around 2.1-inch(5.5cm) for Dwarf Hamsters, Robo Hamsters

2>. Multi-Chamber Maze Home - Designed 2-Door and 6-Room to mimics how hamster's nest and burrow in the wild, your hammy can feel entirely safe and secure, spend their activity time to explore and burrow, find the escape route for them

3>. Big Hamster Mansion - Included 6 various rooms with connecting opening, like a big basement, where is big enough to satisfy your curious hammy desires, they can arrange those chambers used individually for sleeping in, storing food, bedding or furnish storerooms and bedrooms according to his own wishes, just like in wild, they digging burrows in instinct to setup own bedrooms, storerooms, build tunnels, and hiding spots

4>. Removable Lid - The top cover of hamster maze is easy to open and put back on, you can easily locate your critters and clear habitats without disturbing him

5>. Made from European Imported Birchwood, built by the tongue and groove method without nails, sturdy construction, and natural texture

Package Included:
1x 6-Chamber Hamster Maze Hideout